Directions For Driving From Henry E. Rholson Airport To Estate Questa Verde, Unit K-71
Stay Left! Stay Left! Stay Left! Stay Left! Stay Left! Stay Left! Stay Left!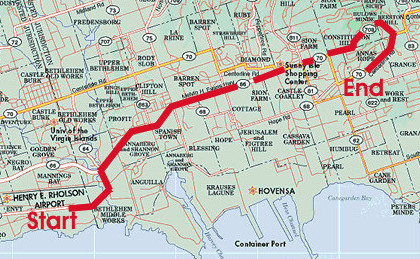 Turn left out of the Henry E. Rholson Airport—airport road curves around, race track on your left, open fields on your right.
Turn right onto Melvin H. Evans Highway (E66) at stoplight—stay on the left! You are now going toward Christiansted.
Go through four stoplights—continue straight on E66.
E66 turns into E70.
E70 turns into E708—continue curving around, going down the hill, where you pass Wesleynn Holiness Church on the left.
Continue bearing left—watch Yield sign. Pass Beeston Hill Medical Center.
Follow the sign to 70—curving left again.
Take an immediate right at the white sign for Estate Questa Verde.
Follow the road up the hill—watch for speed bumps. The gate entrance is on the left.
Turn left inside the gate
Drive to the end of the parking lot area.
Unit K-71 is up three flights of stairs, the first unit on your left.
We suggest that before you unpack your car, you go in and get the lay of the land. You can bring in your luggage in on the lower level through the little bedroom door. You're on vacation, do things the easy way!
We would be happy to answer any questions you might have. Email us and we will reply promptly.